Step back in time.
Experience Earth history like never before with the award-winning Deep Time Walk. Designed by an experienced team of playwrights, scientists, radio producers, actors and creatives, our Mobile App calculates your speed and distance as you walk, enabling you to learn about key evolutionary events as they occur across Earth's 4.6bn year geological time.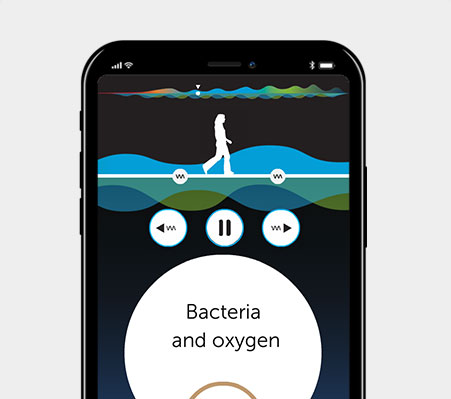 A history of the living Earth. The dramatised Deep Time Walk can be experienced anywhere. Walk 4.6km through 4.6bn years of Earth history, learn about key concepts from Earth's evolution and experience a unique perspective of deep time. A transformative experience for iOS and Android.
A testament to deep time. Limited-edition book of the narrative used in the Mobile Guide. Recommended for a Ted Hughes Award, 'The Fool and the Scientist' is written by award-winning playwright Peter Oswald and scientist Dr. Stephan Harding. Includes a glossary of 120+ specialised terms.
A record of Earth history. High-quality CD version of the Mobile Guide, available for those without smartphones. Directed by Sony Award winning producer Jeremy Mortimer and brought to life by Chipo Chung, Paul Hilton and Peter Marinker, with a soundscape designed by BBC engineer Jo Hutton.
Creative Excellence
Designed by an experienced team of radio producers, professional actors, award-winning script writers and sprinkled with creative genius, the Deep Time Walk brings together excellence in science, the arts and appropriate technology to provide a unique experience of Earth history.
August 23, 2019

Biggest coordinated set of Deep Time Walk's ever planned to coincide with the Global Climate Strike week. Walks being arranged in London, Edinburgh, Bristol, Bath, Plymouth, Melbourne and California. Will you join us?

August 12, 2019

The latest version of the Deep Time Walk released in dedication to the inspiring barrister Polly Higgins who spent the last decade making the word "ecocide" globally understood.
Hugh Fearnley-Whittingstall
River Cottage
"A very clever idea … giving participants a vivid sense of the vast history of the Earth, and humanity's small and very recent part in it"
James Lovelock
Earth scientist
"The science which underpins the Deep Time Walk makes it an extremely valuable resource for holistic education and it deserves widespread adoption in schools and universities"
Bruno Latour
French philosopher, anthropologist and sociologist
"A great poeticoscientific walk synced with narration. A masterpiece to get a sense of history"
OUR PARTNERS & SUPPORTERS
As a small social enterprise we have been supported by two successful crowdfunding rounds, the last being match-funded by the Heritage Lottery Fund. We are currently growing our partnership base to help foster wider understanding of deep time and to show humanity's deep ancestral history and interconnectedness with all life.